Salmon  
¼ cup kosher salt plus  1 quart ice water.  Add kosher salt into the ice water until dissolved. Add the salmon and refrigerate for 30 minutes (or up to one hour).
Place the salmon in a vacuum bag and add the olive oil and bay leaf.
135 degrees for 20 minutes
Lemon-Dill Creme Fraiche
1 cup creme fraiche (or sour cream or Greek yogurt)
1 lemon, juice and zest
¼ cup loosely packed chopped fresh dill (or chives or tarragon)
Whisk together all ingredients and serve with sous vide salmon. Can be refrigerated in an air-tight container for up to two days.
Rib Eye Steaks
Dry and Season with salt pepper and rub of choice
131 degrees  is my favorite
Sear with Butane Torch.
RIBS
Costco Baby Back RIbs  (three racks) and section 3-4 bones a piece.
Dry and rub with salt and rub of choice
Foodsaver two pieces to a bag
Set temp to 138 degrees
cook for 24-48 hours
Sear with Honey BBQ sauce and serve.   You can refridgerate sealed cooked bags before searing if necessary.
Lamb Chops
Rub Lamb Chops with  Garlic, Rosemary, Thyme,  Olive Oil, sea salt and black pepper
140 degrees for 2 hours
Sear with Torch or Hot Skillet on Broiler
Pork Tenderloin
Dry Rub with Salt, Pepper and dry rub
add to bag with butter.
135 degrees for 2 hours.
Sear with Tourch and serve
HAM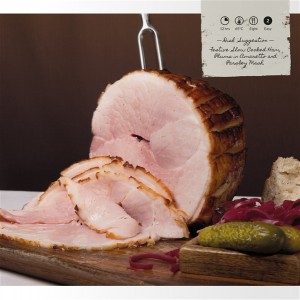 INGREDIENTS
5 pound (2.5 kg) boneless ham
1/3 cup (80 g) Dijon mustard
¼ cup (65 g) maple syrup
¼ cup (65 g) honey
2 oranges, for peeled zest only
2 teaspoons (10 ml) Mixed Spice*
6 bay leaves
6 pods star anise
6 ½ ounces (200 ml) cola
20 juniper berries
6 cloves
1 teaspoon (5 ml) chopped thyme
3 ¼ ounces (100 ml) fresh ginger juice
DIRECTIONS
Fill and preheat the SousVide Supreme water oven to 149F/65C.
Put all ingredients, except the ham, into a saucepan; bring to a boil and reduce heat to simmer gently for 15 minutes. Set aside to cool.
Once cool, pour the seasoning liquid into a

large cooking pouch

, add the ham, and vacuum seal in a

chamber vacuum

. If using a suction sealer, use the Moist setting if available and take care to force the seal before liquid can be pulled into the sealing chamber. Alternatively, you can use a

large zip closure cooking pouch

and the

displacement method (Archimedes' Principle)

to remove the air and zip the seal. (If the ham is too large for your largest cooking pouch, cut it in half and pack in two cooking pouches, dividing the seasoning liquid between them.)
Submerge the pouch in the water oven to cook for 12 hours.
When ready to finish, preheat the traditional oven to 400F/200C.
Remove the ham from the pouch and transfer to a roasting pan. Roast in the oven for 10 minutes for lovely, crispy fat.
* Mixed Spice is a combination of 1 tablespoon ground cinnamon, 1 teaspoon each ground coriander and ground nutmeg, ½ teaspoon ground ginger, and ¼ teaspoon each ground allspice and ground clove.
 Rack of Lamb
Bag with Salt & Pepper , a few sprigs of Rosemary, Olive Oil
135 degrees  two hours
Make Sauce –
3 Tbsp Grainy Mustard
1 Tbsp Balsamic Vinegar
2 Tbsp Olive Oil
3 Garlic Cloves
Rosemary or tarragon, chopped
Salt & Pepper, to taste
combine in food processor
Cover the sous vide rack with sauce and Torch Sear or Broil.  if broiling,  cover the underside of the lamb with the mustard sauce and broil for a few minutes. Then turn the lamb over, coat the meaty side with mustard and broil again for another few minutes
STRIPED BASS
Sous Vide Striped Bass Times and Temperatures
'Sushi', Rare: 104ºF for 10 to 30 Minutes (40.0ºC)
'Sushi', Medium Rare: 122ºF for 10 to 30 Minutes (50.0ºC)
Medium Rare: 132ºF for 10 to 30 Minutes (55.6ºC)
Medium: 140ºF for 10 to 30 Minutes (60.0ºC)
Cooked with skin on and seasoned only with salt. The fish was vacuum packed and cooked sous vide at 138F for 25 minutes. The fish was removed and set on a paper towel for a few minutes then cut into slices. The fish was perfectly cooked after 25 minutes at 138F and extremely flavorful and moist.